PG|1 hr 34 mins|Drama, Comedy, Sports Movie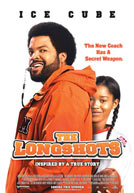 The true story of Jasmine Plummer who, at the age of 11, became the first female to play in Pop Warner football tournament in its 56-year history.
Synopsis:
When Curtis Plummer, a down on his luck former high school football star, takes the only job he can find--babysitting his misfit niece Jasmine--he discovers that she has the skills that once made him a great quarterback. The only place these two opposites get along is on the field, so Curtis is determined to turn Jasmine into the star of the local team, The Minden Browns, and get his own stride back by becoming the coach. The boys on the team don't want her but when this girl quarterback shows them she's got the skills, she'll turn their whole world upside down.
Director: Fred Durst
Starring: Ice Cube, Tasha Smith, Keke Palmer, Jill Marie Jones, Earthquake
Movie Trailer
The Longshots